What will I learn?
Understand what automation means? When to use it?
Install and integrate Selenium framework into the Eclipse IDE.
Use Selenium framework to automate different browsers(Chrome, Firefox, Safari, and more)
How to automate the web browser with Selenium framework
What is Xpath, how to locate web elements.
Manipulating web elements with web attributes and Xpath.
Description
During and after completing this course you will be able to Understand what automation means? How & when to use it? Set selenium WebDriver, write test scripts along with different frameworks. Manage any web element with different events like click and context click(right click), get and set, drag and drop. Use selenium to perform web browser automation and navigation within.
Requirements
Familiar with the concept of Java for testing
Familiar with Java APIs and libraries what will be used in software testing. Please refer or check the Java for a tester to get more info.
Audience and Requirements
Anyone who is interested in QA, BA and wants to know the use of selenium for automation testing.
Should know Fundamental knowledge about software testing.
Certifications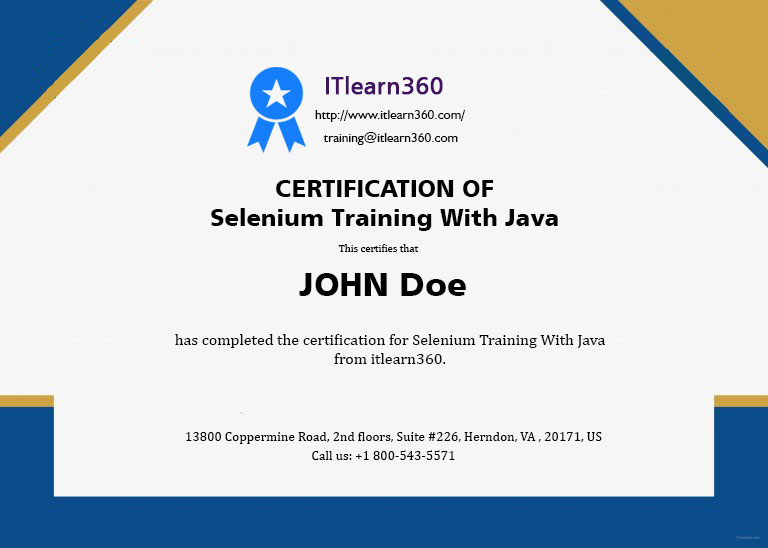 Student feedback
Direct & to-the-point

Comprehensive Curriculum

Happy Faces

Video Quality
Summary
Best course till now. I am very happy with this course. Training Information
Training Name
Selenium Automation Online training with Java
Training Duration
20 hour
Enrolled Students
30
Fee

$499.00

$750.00
Training Highlights
1. You will get the knowledge of Selenium web driver concepts and hands-on experience on web driver script.

2. You will get the knowledge and working flow of various frameworks like TestNG, JUnit etc.
3. You will get the knowledge of CICD / BDD approach with Cucumber.
4. You will be able to share your code with your team member by working on Repository Github.
5. You will be able to test various sites by creating your keyword-driven / data-driven framework.
6. You will get the hands-on experience to read/write different files (excel, XML file) through Java and use in data-driven code.
7. You will be able to automate the testing process through Jenkins tool.
8. Access self-paced videos up to 1 year.

Online Class Demo Dates
00

days

00

hours

00

minutes

00

seconds
Date and Time
Saturday, 15 Dec, 2018
19:00 PM EST
00

days

00

hours

00

minutes

00

seconds
Date and Time
Monday, 17 Dec, 2018
19:00 PM EST
Automation with Selenium WebDriver(Java)
+
Java for Automation Testing
=
$20.00
$25.00
$170.00
$190.00
Automation with Selenium WebDriver(Java)
+
Soap UI Web Services Testing
=
$25.00
$30.00
$180.00
$200.00
Automation with Selenium WebDriver(Java)
+
Jmeter for Performance Testing
=
$20.00
$25.00
$180.00
$200.00
Subscription
Y
Yearly Subscription
$99.00
$120.00
T
Online Class Subscription
Contact Us
+1-800-543-5571