Why IT Certifications are Important to Launch Your Tech Career?
At this moment, Information technology is one of the fastest-growing industries. Jobseekers are trying to get their dream Job in IT industry whether they have IT background or they are from another education background(NOT-IT). Due to the fast changing and innovating mode of IT industry even professionals who are already in the industry they have to adopt the new technologies, so they can have a positive impact on their career and earn good money obviously.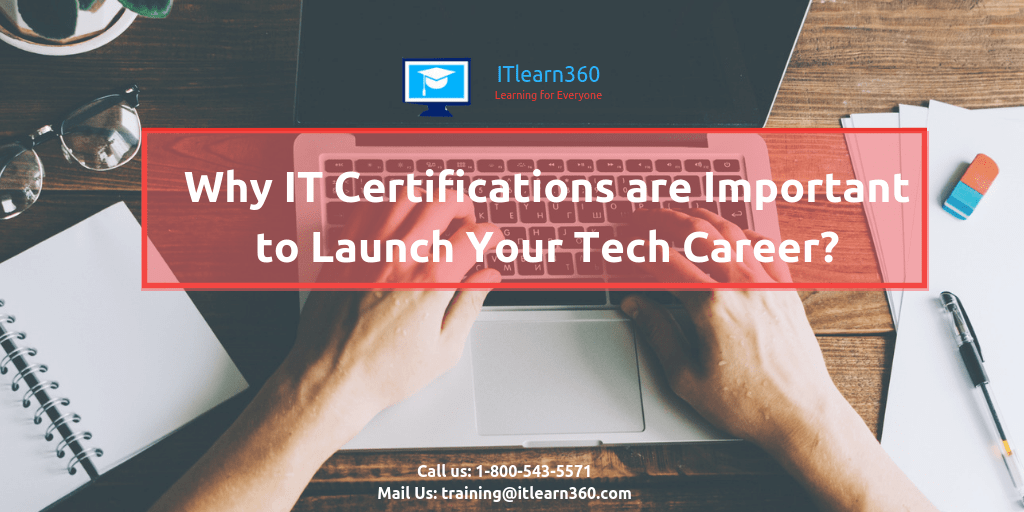 But the question is why job seekers are moving to the IT industry?
They can earn good money.

IT may be a challenging field, but once you adopt the things on what you are doing you will thrive not only in work but also in your personal life.

This gives you the opportunity to meet new colleagues and share ideas with them.

IT is a goal-oriented field, it constantly motivates you to achieve the highest standards. You will always learn new skills that can be challenging and this will increase your value and help you to grow your career.

IT is growing at such a rapid rate, many traditional/manual jobs are being replaced by lines of code or technology. Working in IT will keep you at the forefront of discovery or new things.

It will expand your mind because you need to have a problem-solving strategy that quickly resolves any issues that may come up to solve big problems.
If you are from IT background, then it will be easy for you to adopt the new technologies, but if you are from the NON-IT background and try to get a place in IT, it is hard to adopt IT skills because you need to work hard and spend more time for that.
But it is not impossible to get IT job.
There are some certifications which help you to get Job in IT industry. Here are some certifications/courses which are popular for NOT-IT aspirants:
Software testing(QA) certification

Automation testing certification

associate-level certifications

WordPress for Beginners

UI / UX designer

Web app development etc.
But in above certifications /courses, AWS associate-level certifications are in demand in IT industries and it will not be very hard to learn the AWS skills. Amazon Web Services (AWS) provides cloud services which are using by startups, big companies, and government agencies. AWS is providing the platforms to all industries to build their applications or to handle big data. The way, Companies are adopting to AWS because of their services, it is generating the jobs which require AWS certified candidates or having AWS hot skills. Here are some associate-level certifications which help to learn the AWS skills and enter into IT industry:
AWS Certified Cloud Practitioner

AWS Certified Developer – Associate
Please subscribe to get updates of interesting videos
AWS Certified Cloud Practitioner will help you to get the overall understanding of the AWS Cloud, independent of specific technical roles and help you enter in IT industry with AWS skills. After you can try AWS Certified Developer associate exam to become AWS developer.
AWS Certified developer will help you to
understanding of core knowledge of AWS services, uses of AWS services, and basic AWS architecture best practices.
Proficient in developing, deploying, and debugging cloud-based applications using AWS
Able to use the AWS service APIs, AWS CLI, and SDKs to write applications
Able to identify key features of AWS services
Understanding the AWS shared responsibility model
Understanding of application lifecycle management
Ability to use a CI/CD pipeline to deploy applications on AWS etc.
After passing the AWS certified developer, if you are looking to switch or jump your career to AWS architect or AWS administrator, then these 2 certifications will help you
AWS Certified Solutions Architect - Associate
AWS Certified SysOps Administrator - Associate
Check out the flow of AWS associate certifications (easy to hard level)